For years Midnight Cartel has been using Ventrilo which was a great voice chat in its day. Don't get me wrong it's still okay today but it's fallen behind some of the others. If you ever pug you probably see a multitude of voice chat requirements from Teamspeak, Vent, Mumble and more recently we've been seeing a lot using Discord. So last year I looked into this chat as I got some emails about it and here are some of the bright spots:
1. It's free. Right now a former guild master of ours pays the subscription for Vent. He should not have to do this.
2. Vent has a user limit. We've hit the limit (supposedly 50 but ours seems to lock up around 27) a couple times. Discord has no limit.
3. It has a chat channel in it. I've used it to leave messages for anyone who logs on, we can post links (to patches and such), post logs, or just funny crap you find. (BTW this chat channel can be muted!)
4. There is a private message feature so you can leave a specific message for someone on the server.
So we're going to be testing this out for a while to see how it goes. I've already gotten some positive feedback from members about voice clarity and ease of usage but I wanted to do a simple little guide on some stuff just to make sure you understand the basics. Now I have NOT placed the invite here as I don't want a joe shmoe random person using that to get in so if you need an invite to it (and you will) contact an officer or respond here and I'll send you an in game mail with the link.
Part 1: Get Discord. Truth be told you can do one of two things, use the website version or download the application. I believe if you use the website version Push to Talk has some issues as it cannot pick it up if you're playing WoW so I'm suggesting downloading it. It's fast and easy.
Download for your OS:
https://discordapp.com/download
Guess what, you can even have it on iOS and Android!! Holy Crap MORE MIDNIGHT CARTEL!!!!
Part 2: Set up your profile. I've done this months ago so I cannot help you there. It should walk you through step by step and even allow you to link your Battle.net account (which shows what game you're playing which I think is super cool).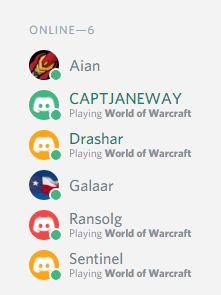 Part 3: Change your nickname. If you used Battle.net it should default to that. You can change your nickname to whatever you want any time you want. In fact, as an admin to the server I can change your nickname (Just ask Dac and Drash!).
In the online list (right side of the application), right-click your name and select "Change Nickname". This will allow you to change your nickname for the server.
Part 4: Enable Push to Talk (instead of Voice Activity). On the LEFT SIDE of the application below the voice channels you should see YOUR NAME + 3 buttons. The buttons are Mute (shut yourself up), Deafen (shut everyone else up) and User Settings.
Click the USER SETTINGS button to open up its dialog window. Now there is a lot of stuff here but we want to go to VOICE and change the INPUT MODE from "Voice Activity" to "Push to Talk" and then set up the key you want to use. Boom, done!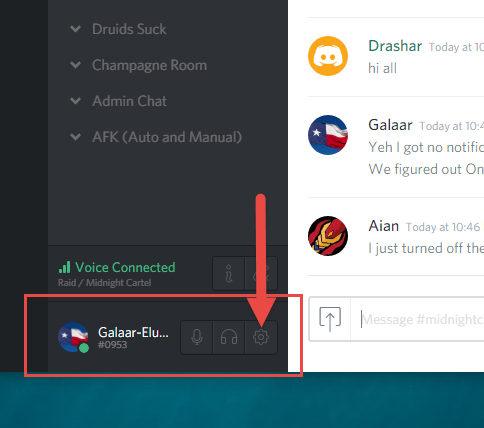 Part 5: Turn off Notification Sounds. Yes, programs can be super annoying. If you want to turn of sound notifications go back to USER SETTINGS and choose NOTIFICATIONS. Enable/Disable what you want/don't want to hear.
TIP! Discord doesn't actually close when you click the close button, it just goes into your system tray and can still notify you of crap. SUPER ANNOYING! Go into notifications and turn off ENABLE DESKTOP NOTIFICATIONS.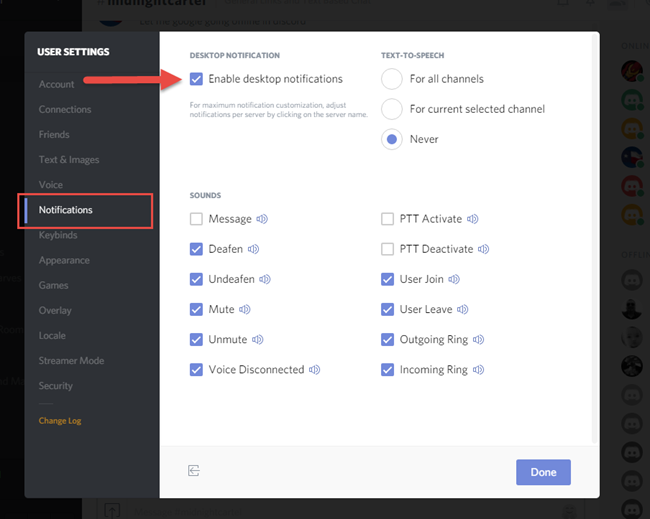 Part 6: Join a Server Channel. Now everyone is by default on the text channel called #midnightcartel. You can mute this channel easily by clicking the BELL ICON at the top of the application next to the PIN ICON. However, if you want to join a voice channel you have to manually join it.
To do this, simply click the name of the channel (1 time) and BOOM, in you go. Now, I've set up some handy channels that will help people do what they do. Here's a breakdown of the channels and their intended purpose.
General - basically anything
Raid - for a raid team to communicate
Dungeons - for a 5-man dungeon team. If we have more then 1 then we can utilize General or Raid. However, I have rarely seen more then 1 group for dungeons at a time. If this becomes more common, I will add more.
World Quests - doing them with others? Here's a channel you can utilize!
Drunken Dwarves - this is my channel (adopted) on vent, and it came with me. Anyone can use it.
Druids Suck - because they do.
Champagne Room - adult discussions
Admin Chat - this is our only restricted voice room, only people that I have promoted as admins (basically any officer) can enter. However, we can drag others into the room if needed)
AFK (Auto and Manual) - wanna go afk? Drop down here. Been idle for over an hour, you'll drop down here. It auto mutes you.
At this time I have no plans to add another text channel as #midnightcartel should be sufficient. However, if Vanfelsing wants to post logs for his raid group we can create a #mcraidlog channel for posting logs for both groups. Cool thing about chat is that it's preserved! You can log off and when you log back on, all the crap posted in the time you were offline is right there!
Part 7: Leave Chat Channels. There are tons of ways to get your butt out of chat or make it appear you're out of chat. Let's go over all of them.
1. Leave chat but stay online: click the DISCONNECT BUTTON next to the "Voice Connected" status above your name on the LEFT SIDE BOTTOM. (See screenshot below). This will remove you from all voice channels but leave you online. Woot!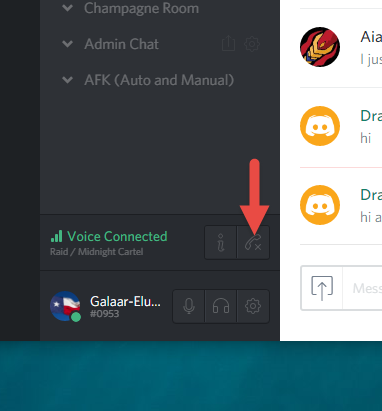 2. Leave chat and turn off any possible notifications: well if you have ENABLE DESKTOP NOTIFICATIONS disabled then you're good to go with simply disconnecting. You can also mute the text channel but you shouldn't need to (Drash and I tested this!).
Want more control? Go invisible or do not disturb. How you ask? On the LEFT SIDE BOTTOM you should see your name + your avatar (picture to the left of your name). On that avatar is a colored dot.
Green = online
Yellow = idle
Red = DnD
Gray = Invisible
Left click the dot to open up the manual status set options and set your status.
That's it for now but if you want a more hands on training holler at me and I can walk you through some stuff.